This year there were 4.6m people who were self-employed in their main job, with the rises over the past few years having a big effect on the overall employment numbers
About 15% of those working in the UK in 2014 are self-employed – the highest proportion in the four decades that data has been collected on the subject.
As well as these 4.6m people, there were also an extra 356,000 who had a second job in which they were self-employed according to a release by the Office for National Statistics (ONS).
This is important because if you look at total employment in the second quarter of 2014, it was up by 1.1m on the pre-financial crisis first quarter of 2008. The majority of this rise was down to a 732,000 increase in self-employment – meaning it has been the crucial factor in the rise in employment.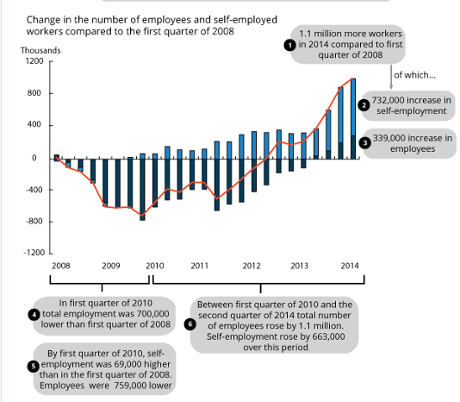 What makes this data doubly interesting is that there has been no real change in the proportion of people choosing to enter self-employment, roughly an additional 37% new starters every five years, but a significant drop in the proportion leaving self-employment between 2009 and 2014.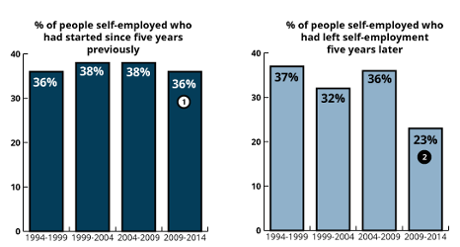 Across the last two decades the proportion of self-employed people who left self-employment across five year-periods has veered between 32% and 37% but between 2009 and 2014 that went down to 23%.
The ONS stats release suggests two factors which may be contributing to this stoppage:
More people (both those self-employed and those working as employees) are continuing to work beyond the default state pension age. Self-employment among those aged 65 and over has doubled from 241,000 in 2009 to 428,000 in 2014.
The opportunity to work as an employee fell at the onset of the economic downturn which limited the opportunity for people to move from self-employment.
The average self-employed worker is 47, seven years older than the average employee. Looking at the proportions, 43% of self-employed people are aged 50 and over.
Although construction and building is still the top job role for self-employed people (167,000 in 2014) it has had the slowest growth in self-employment between 2009 and 2014.
The rise in self-employment was instead largest in what the ONS describes as "professional, scientific and technical activities". These include a wide range of things such as management consultancy, book-keepers, photographers and chartered accountants.
Source: http://www.theguardian.com/news/datablog/2014/aug/20/why-is-uk-self-employment-at-a-record-high
Comments
comments